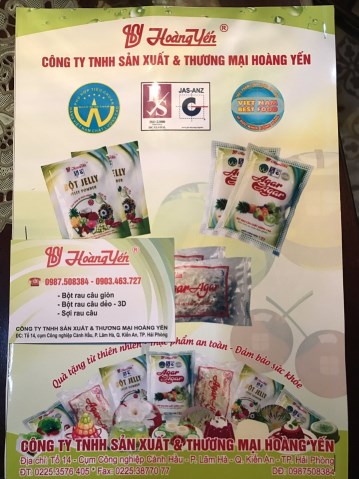 Hoang Yen Production and Trading Co., Ltd is a company specializing in manufacturing and trading products made from seaweed (gracilaria, E.cottonii). Formerly known as Agar Agar production facility, operated in 1993, in 2002, Hoang Yen Production and Trading Co., Ltd. was established.
Our company has more than 25 years of experience in the field of manufacturing and processing seaweed products. Our products include: Agar powder - Agar Hoang Yen (also known as Crispy Jelly Powder), Agar Fiber, Carrageenan Powder, Hoang Yen Jelly Powder (also known as flexible jelly powder, 3D jelly), etc. The Companys products are manufactured on production lines that are applied with the quality management system according to the international standard ISO 22000-2005.
The company constantly improves production capacity, innovates and invests in modern production equipment. With the aim of stabilizing and improving product quality in order to provide customers with the best products derived from nature, the Company strictly adheres to the rules in standards, from closely monitoring the source. origin, quality of incoming raw materials to best control the last product and all stages of production.
With the advantage of being a long-time manufacturer in this field, we actively purchase the main raw materials of seaweed (yellow thread / gracilaria, cartilaginous seaweed / e.cottonii) from the best vegetable regions in the country such as Cat Hai, Binh Dinh, etc to import directly from Indonesia and the Philippines are countries with good and stable seaweed quality.
The company has affirmed its reputation in the market with excellent quality, competitive prices and prompt delivery. The Companys traditional customers are distributors, housewives and economic organizations, and prestigious scientific research organizations. We continue to create profitable value for domestic and foreign partners on the basis of cooperation for mutual benefits.